Meet Tamiru!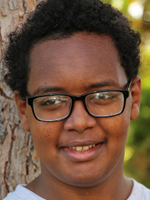 Bright and adventurous, Tamiru dreams of attending Harvard and becoming an engineer. For now, the 16-year-old is making the most out of his high school experience. Like many teenagers, Tamiru enjoys playing video games and watching TV. He also likes being outside and hiking. Tamiru says his favorite meal of the day is breakfast and enjoys waffles, pancakes, bacon, and sausage. Oh, and don't forget the hot chocolate please!
Tamiru is looking for a laidback family that will support him as he chases his dreams. He would do best as an only child and would like to join a family that is active in their church because he enjoys watching his local church services and listening to worship music.
For more information about Tamiru, please contact us at (602) 930-4900 or via e-mail at info@aask-az.org.