Meet Nicholaus!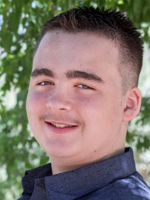 Nick is an energetic 14 year old. "I'm a great helper," he says, as he describes himself. In his previous foster homes, Nick did his share of chores, including helping care for the animals from chickens to horses. "I like helping out and doing family things."
During a past visit to Tyler Farms AZ in Mesa, riding instructor Scott Tyler and Nick brushed the horses before mounting up for a lesson. "The horse was so calm," Nick says, adding that he enjoyed getting the horse to trot. Nick also has a keen interest in all things mechanical and says he hopes his forever family has dirt bikes in the garage.
Nick is in the 8th grade and works hard in school to please his teachers and says he hopes to go to college to become a police officer, firefighter or paramedic "because they save people's lives." Nick hopes for a forever family that includes a mother and a father. He would do well with an active family that offers a strong male role model.
For more information about Nicholaus, please contact us at (602) 930-4466 or via e-mail at csrinquiry@aask-az.org.