Meet Faizon!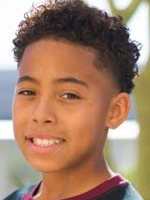 Faizon is a Hispanic/African American young man who came into care when he was 6 years old. He was born in April 2006. Faizon enjoys card and board games, building with Lego's, and most outdoor activities. Overall, Faizon can be very creative and imaginative. He is very hands on and enjoys taking things apart and figuring out how things work. He can be very helpful around the house. He enjoys all things nature and fishing is one of his absolute favorite activities, but he hasn't been fishing in years. He enjoys playing basketball, football, and running track. He loves to eat Takis and enjoys going to buffets to eat. He is described as creative, loving, cute and funny when he opens up. He may become an inventor or an engineer when he gets older as a way to use his creative mind. He has been involved in all sorts of activities such as track, basketball, baseball, flag football, skateboarding, guitar lessons, boy scouts, and karate. Faizon is a very social child and can easily make friends with anyone in the neighborhood after he gets to know them. Faizon is shy and soft spoken most of the time.
Faizon will benefit greatly from a family who will actually treat him like all children should be treated with compassionate listening and understanding and commitment to him. He needs parents who will guide Faizon with basic and agreed upon behavioral expectations. Faizon is a good kid who has been hurt by many poor choices of his own and others. With these traits and when trust is built, Faizon will be a strong committed addition to his family.
The best family for Faizon will be experienced at raising children to be able to provide him with the amount of attention he desires. An African American home with no other children would be ideal, but older children would work too, as they provide a good role model for him. He needs parents who will provide structure and routine and who will be able to give him the amount of love he deserves. Faizon thrives with predictability, consistency, and structure. He needs a family who will be committed to helping him overcome the adversity he has already faced in his young life.
For more information about Faizon, please contact AASK at (602) 930-4466 or via e-mail at csrinquiry@aask-az.org.