Meet Fekkial!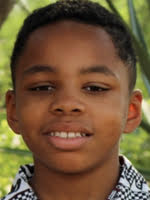 Fekkial is a friendly and usually quiet 11 year old young man. Fekkial also enjoys being called "Colter" and will let you know which name he prefers you to call him by. Fekkial enjoys all sorts of outdoor activities as well as video games, but he prefers outside games the most. Fekkial's favorite holiday is his birthday because he gets to see the people he loves the most and getting presents is second to seeing his favorite people. Fekkial gets along with his peers well and really enjoys going to school and learning. Fekkial is inquisitive. He enjoys rockets, RC planes and cars. Fekkial's favorite activities are playing basketball, flag football, and soccer.
The ideal family for Fekkial would be a mom and dad with time to spend with him as a family. Fekkial will do best with a parent who takes a strong and involved lead in the home. Fekkial also likes routine and being able to plan on what's coming next. Fekkial would like a brother or two and would do best with older siblings to be positive role models. Fekkial just hopes for a family he can love and feel loved by them.
For more information about Fekkial, please contact us at (602) 930-4466 or via e-mail at csrinquiry@aask-az.org.