Meet OwenG!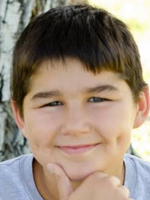 Owen has a goofy, fun-loving personality that shines the minute you meet him. The teen enjoys talking with everyone, hearing their thoughts and opinions and sharing his as well.
Like many boys his age, Owen likes to play video games but he says some of his other favorite activities are drawing, making origami, and building intricate designs with his LEGOS. He hopes to use his creativity when he is older and find a career that lets him "design cool things". On the weekends, Owen likes to watch his favorite teams (the Steelers, Diamondbacks, and Golden State Warriors), eat at his favorite restaurant (Olive Garden), and participating in church and Sunday School.
Owen hopes his future forever family is loving and structured. He would do best in a two parent household where he is the youngest child.
For more information about OwenG, please contact us at (602) 930-4900 or via e-mail at info@aask-az.org.