Meet JoshuaM!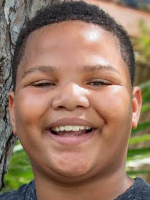 A highly energetic teen, Joshua loves to stay busy. Whether it's playing flag football for his school, playing Smash Bros. (his favorite video game), or going for a swim Joshua is always moving. Joshua's energy is only matched by his personality. With a smile on his face, Joshua makes new friends easily and has a great sense of humor. Within minutes, Joshua will have a group doubled over in laughter.
Joshua says his perfect day would include swimming, eating ice cream, and playing laser tag. He wouldn't mind throwing in a trip to McDonalds, which is his favorite restaurant and listening to one of his favorite artists – Michael Jackson. Joshua is eager to learn and does well in school. He jokes and says his favorite subjects are lunch and recess, but he does enjoy his math class and his teachers. Joshua is also developing a passion for cooking and can make a great pot of mac and cheese.
The ideal family would be a two-parent home that will provide unconditional love. Joshua is open to having siblings but is okay being an only child too. Joshua wants his family to know he is very helpful and notices when people are in need. He also says it's important they know he can do a flip underwater. Joshua would love a family dog and hopes his forever family is kind, consistent, patient, and loving.
For more information about JoshuaM, please contact us at (602) 930-4900 or via e-mail at info@aask-az.org.