Meet ShawnH!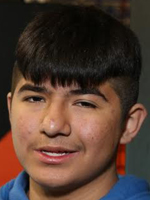 Shawn is looking for a compassionate, understanding family that will love him and spend time with him. Or as Shawn says, 'just like any other family.'
The teen likes to be outside, and like many his age he enjoys playing sports like basketball and soccer. He also enjoys playing video games, watching TV, and drawing. Shawn's creativity is something he is known for. His friends always like to see Shawn's latest drawings and his skills are breathtaking. But his creativity isn't limited to creating works of art on paper, he also likes to head to the music studio and make beats. Shawn currently visits a music center regularly where he can develop his skills and express himself.
Shawn says he'd like to be an engineer or a police officer when he grows up, but for now he's enjoying being a kid, having fun, and going to two of his favorite places: Starbucks and Panda Express. Although he can be a bit quiet when meeting new people, Shawn has a warm smile and is always willing to keep others company. Once he gets to know you, he easily cracks jokes and talks about his life, hopes, and dreams.
For more information about ShawnH, please contact us at (602) 930-4900 or via e-mail at crsinquiry@aask-az.org.