Meet Riley & Michael!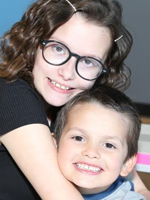 Brother and sister Michael and Riley are ready to enjoy life with a family all their own!
Older sister Riley has a variety of interests including swimming, coloring, listening to music, and watching TV. She loves spicy boneless wings and would love to learn how to cook. The middle schooler says her favorite subjects are math and social studies and of course, socializing with her friends! She says she'd like to join either the police or fire department after she graduates from high school. "Younger brother Michael is an energetic and outgoing little boy who loves to spend time with adults who want to play with him. He says his favorite foods are peanut butter, ice cream, and chicken nuggets from Burger King. Michael also enjoys singing, trucks, and the TV show Paw Patrol.
The pair is looking for a forever family where Michael can be the youngest child. They are open to having family pets, but will be happy as long as they are getting the one-on-one attention they both want. Riley says her idea of a family is, 'people who love and care about you.'
For more information about Riley & Michael, please contact AASK at (602) 930-4900 or via e-mail at info@aask-az.org.