Meet Reyes!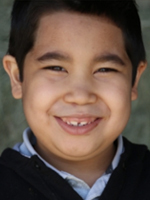 Friendly, with a laugh that can light up a room, that's Reyes. Whether he's playing a game outside or cozying up inside to read a book with you, Reyes finds the fun and adventure in every activity, and he can't wait to find a forever family that loves to laugh as much as he does. Besides playing games and reading, Reyes loves PAW Patrol. He would love nothing more than to spend time together watching the pups' latest antics in Adventure Bay. Or, even better, join a home with real dogs or other pets that he could have fun with.
Reyes is very social — he loves to chat — and enjoys playing with other children. Reyes adores his sisters. He hopes for a family who will help him stay connected to his large family and his Hispanic roots.
Reyes is very much in favor of adoption, and wants to have a forever family of his own like his sisters have found. Reyes would like to find a family with a mom and a dad or two moms or a single mom who will show him the same type of love he's been receiving in his current foster home where he has been for over 2 years. Reyes remains close to family and hopes to find an adoptive family who'll continue to nurture those relationships. Reyes was born in 2013.
For more information about Reyes, please contact us at (602) 930-4466 or via e-mail at csrinquiry@aask-az.org.