Meet JoseM!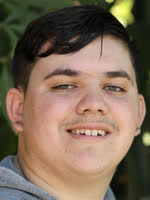 Jose is a young man who can always put a smile on your face. He has big dreams to be a YouTube or Hollywood star and has already started planning out what his dream home would look like. Jose has not just planned for his dream home, he has also planned out all of the muscle and exotic cars he would love to have! When not shooting for his dreams, you can find Jose listening to music and watching television or YouTube videos. Jose is a huge fan of WWE and could teach you so much about the wrestlers and their moves! Jose can be described as caring, friendly, funny, shy at times, and just an all-around great kid to be around.
While school is not Jose's favorite place, he does do well.
Jose could do well in any type of family setting, but would do best as the only child or with one other child who has lower needs. Jose will need assistance into adulthood. Jose has had a lot of loss in his life, so he will need a patient and caring family to help him grieve. While Jose is excited about being 18, he is also nervous and will need someone in his life to help him along the way and teach him how to be an independent adult. Jose was born in 2004.
For more information about JoseM, please contact us at (602) 930-4466 or via e-mail at csrinquiry@aask-az.org.