Meet Constintine!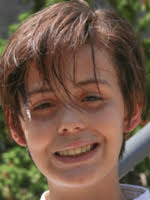 Constintine, who goes by "CJ" is a friendly and talkative young man. He likes animals, preferably cats, and recalls fond memories of the family cat and dog he had. CJ loves to explore, he recently found a litter of neighborhood kittens that he keeps a close eye on. He enjoys playing videogames such as Mindcraft, Bay Blades and anything Anime. He thrives being outside and is always willing to go on a bike ride. CJ's favorite colors are orange and pink. CJ's favorite meal is chicken and mashed potatoes. He loves mint chocolate chip ice cream and Pepsi. CJ enjoys math, because he is "good at it."
According to CJ, he would like a home with a mother and father. He would prefer to be the only child. He would also enjoy a home that has a cat and a pool. CJ would love to have a family who enjoys outdoor actives. He looks forward to going on bike rides together and sharing his Mindcraft skills. He will need a family that is active and able to provide him with one on one attention.
Constintine was born in 2009.
For more information about Constintine, please contact us at (602) 930-4466 or via e-mail at csrinquiry@aask-az.org.