Meet Liam!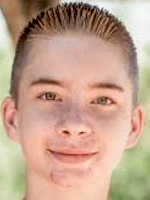 Energetic Liam likes to stay busy. Whether it's playing soccer, fishing, or teaching dogs new tricks Liam is always on the go.
He hopes to find a family that not only likes to stay active, but with nurture his eagerness to try new things. He likes to work with his hands building robots and creating leather wallets and would like to learn ceramics, wood working, and metal working. Liam says he would like to become an engineer when he is older or open his own shop selling his creations.
Liam is easy-going when it comes to a forever family. He dreams of a mom, dad, and siblings who want to do activities together. He also hopes for pets too and is happy with cats, dogs, or whatever furry creature his forever family may have. Liam thrives in stable, committed homes that can provide him with one-on-one attention. While Liam enjoys school, having a family that can help motivate him to do his best and apply his skills will help him achieve all his future dreams.
For more information about Liam, please contact us at (602) 930-4900 or via e-mail at info@aask-az.org.