Meet Jasmine!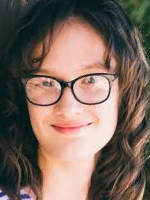 Talkative Jasmine can't wait to share her life with a family all her own! The bubbly teen takes pride in being kind to others and making those around her feel comfortable and included. Always the helper, Jasmine dreams of becoming either a teacher or a veterinarian. At school, she spends time as the principal's assistant and she says it's her favorite part of the day.
In her free time, you can find Jasmine watching her favorite movie The Greatest Showman or swimming, dancing, or coloring. She says her favorite foods are spaghetti and pizza and she always enjoys a cold glass of root beer. Jasmine says she wants a loving family who will support her as she chases after her dreams. She would love to have a dog in her forever home and hopes to one day visit Disneyland.
A kind, patient family that provides unconditional love will help Jasmine build trust and give her the relationship she so wants and needs.
For more information about Jasmine, please contact AASK at (602) 930-4900 or via e-mail at Info@aask-az.org.