Meet Milton!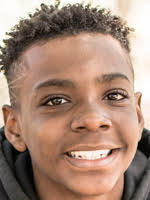 ESPN has nothing on Milton. A sports-oriented teen, the games of Football and Basketball are important parts of his day to day life. Milton uses sports as a motivator and has hopes of making his high school basketball team this year. Milton has learned team work and sportsman ship through sports and both allow him to highlight his caring personality. Milton has positive relationships with his peers and does well in school.
In addition to sports, Milton enjoys video games and watching movies. Others describe Milton as extroverted, funny and curious about life. He is an active youth and likes to be busy. When he does have down time he will listen to rap music, surf social media, or hang out with friends. As a growing teen, of course Milton likes to eat. His favorite restaurant is Culvers where he enjoys a great burger and his go to drink is Sprite.
Milton is looking for a family who can support his love of sports and challenge him to be his best self. Milton looks forward to having caring parents and would like his future family to honor his past connections. Milton was born in 2007.
For more information about Milton, please contact us at (602) 930-4466 or via e-mail at csrinquiry@aask-az.org.