Meet Gracie!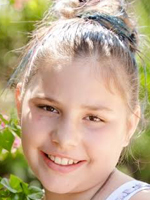 Outgoing Gracie is a sweet girl who loves almost all animals and hopes to become a veterinarian some day. She says her dream pet would be a panda, but is willing to settle for a dog or cat.
Besides animals, the 6th grader enjoys gymnastics, going to the library, LOL dolls and eating pancakes from IHOP. She would love to go on a shopping spree and then head home to enjoy a quiet evening at home. Gracie does not shy away from trying new things or meeting new people. She enjoys learning about others and easily opens up when asked about herself.
The ideal family for Gracie would be structured and provide her with plenty of one-on-one attention. She would like to expand her horizons and try new foods and hobbies with a forever family. She also hopes to have parents or older siblings who are willing to play video games with her, especially Roblox.
For more information about Gracie, please contact AASK at (602) 930-4900 or via e-mail at info@aask-az.org.