Meet Harlowe!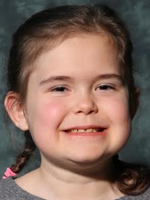 Harlowe, or Harlee as she likes to be called, is a bubbly, sweet little girl who loves to have fun!
Some of Harlowe's favorite things are riding her scooter, playing on her iPad, and Barbies. But above all, Harlowe loves Unicorns! She says she loves the mythical creatures because they have a horn and they are sparkly. Harlowe is very affectionate with those she is attached to and builds strong relationships with those she is closest to. Harlowe does well in school and enjoys when she gets one-on-one attention from her teachers.
Harlowe would best in a family where she is the only or youngest child and needs a family that can ensure she continues the medical treatment she has been receiving. A fun, lovable girl, Harlowe is sure to help the right family create a lifetime of happy memories together!
For more information about Harlowe, please contact AASK at (602) 930-4900 or via e-mail at info@aask-az.org.