Meet Eden, Phoenix, Meadow and May!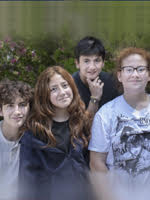 Eden, Meadow, Phoenix and May are four loving and well-bonded siblings who are looking for a forever home to call theirs. Eden is the oldest brother of the four siblings. He cares deeply about his younger brother and sisters. Eden enjoys reading, running, and hopes to learn more about electronic coding so someday he can do it as a career. Eden is very intellectual, determined, and outgoing. He is very easy to hold a conversation with. Meadow does well in school, but rather be doing other activities with her time. Meadow is very protective of her sister and brothers. Meadow enjoys watching tv, eating any types of food, playing volleyball and sleeping. Phoenix is more introverted than his siblings, but is kind, caring and Eden describes him as determined. Anything Phoenix puts his mind to, he accomplishes and is proud of it. Phoenix does well in school and gets along with his peers. He enjoys playing basketball, reading, playing video games, and watching tv. May is the youngest of the four siblings. May enjoys school and her favorite subject is science. May is outgoing and has a fun and unique personality. She enjoys watching and drawing anime, she likes to sing, dance, listen to music, and watch TikTok videos.
Currently the boys reside together and the girls together. The four of them get to visit each other every other weekend when they visit their oldest sister's home. The connection they have to their oldest sister and being able to keep that connection is one of their only requests when looking for a forever home. A perfect family for the four of them is one that will have unconditional support and love for all four of them and give them each the undivided attention that they all deserve.
Eden was born in 2006, Meadow was born in 2008, Phoenix was born in 2009 and May was born in 2010.
For more information about Eden, Phoenix, Meadow and May, please contact us at (602) 930-4466 or via e-mail at csrinquiry@aask-az.org.