Meet Leah!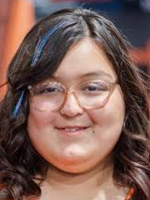 A sweet teen, Leah is a naturally thoughtful and considerate person who makes friends easily.
Leah's compassion carries beyond her love of people and to her love of animals – especially horses! The aspiring veterinarian likes to spend her free time caring for and playing with animals of all sizes. When Leah is not with animals, you can find her playing video games, listening to music, playing soccer, or spending time with her friends. She hopes to find an equally loving family that has lots of pets, will embrace her Hispanic heritage, and give her opportunities to volunteer with animals at a shelter or ranch.
Leah says that in addition to becoming a veterinarian, she would like to become a foster parent when she is older and help kids find a safe and loving place to call home.
For more information about Leah, please contact AASK at (602) 930-4900 or via e-mail at info@aask-az.org.