Meet Roberta!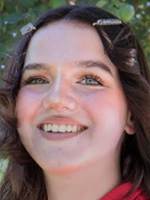 Roberta is a confident, creative teen who is ready to conquer the world.
A talented musician who enjoys singing, writing, and playing the piano, the teen says she would like to be a singer and producer when she gets older. When Roberta isn't writing the next greatest hit, you can find her dancing, painting with acrylics, or doing her hair. She says the perfect day would include a trip to the mall, working on music, playing volleyball, and eating alfredo pizza.
Roberta is looking for a loving family that will support her fun and adventurous spirit. She is open to being an only child but would prefer to have younger siblings. Roberta is committed to her religion and would like to join a family that enjoys going to Church as much as she does.
For more information about Roberta, please contact Info at (602) 930-4900 or via e-mail at info@aask-az.org.