Meet Julian!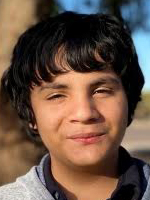 There are two things in life that Julian loves most: dogs and his sisters. If he could make any request to his future forever family, it would be continuing the strong relationships he has with his sisters whether it be in person or over the phone and the opportunity to snuggle a pup or two.
Julian hopes to one day put his love of dogs to good use and become a police officer with the K-9 unit. With his determined and giving personality, it should be a perfect match! For now, Julian is more focused on YouTube and anime and describes himself as "an indoor person". A top-notch student, Julian recently won student of the month at his middle school and he greatly enjoys going to class, learning, and seeing his friends.
Julian is fluent in Spanish and English and enjoys translating for others. More important than a dog, Julian is looking for a loving and supportive family that will nurture his current and budding interests. He would prefer to be the youngest child in the home.
For more information about Julian, please contact us at (602) 930-4900 or via e-mail at info@aask-az.org.