Meet Devin!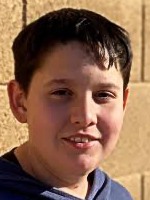 An adventurous 12-year-old, Devin is ready to find a family that can keep up with his on-the-go spirit.
Like many boys his age, Devin loves video games and says Call of Duty, Halo, and Minecraft are his favorites. He says he'd like to be a videogame YouTuber when he grows up. /n His passion for video games is equaled by his love of sneakers. He enjoys looking nice and wearing stylish foot wear with Nike high tops, Jordan's and Dunks being his favorite types of shoes. /n Devin also has a soft and caring side and greatly enjoys animals, especially dogs and birds. A forever family with pets would be a great fit because he finds caring for pets to be very therapeutic.
Devin is looking for a supportive family that will make him feel safe, secure, and connected to the family unit. He would like to have siblings and enjoys bonding with older kids. Devin hopes to find a family that enjoys doing things together and looks forward to evenings of eating Sushi and playing card games together.
For more information about Devin, please contact us at (602) 930-4900 or via e-mail at info@aask-az.org.