Meet Miricle, Loammie, and Deshon!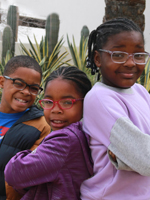 Miricle (10), Loammie (8), and Deshon (8) are a fantastic trio! Like all siblings they do not always get along, but they are one another's best playmates. Miricle is the older sister, so you will always find her looking out for her siblings. Miricle is a very smart girl who enjoys school and playing with her LOL or Monster High Dolls. Loammie and Deshon are twins, but are so very different in their own ways! Loammie is a sweet and talkative girl who is always up for trying new things! Deshon has a lot of energy and loves putting that into sports or other outdoor activities. While they all enjoy watching television and playing video games, they prefer spending time outdoors and staying active. Miricle, Loammie and Deshon are all in school and do very well in their classes.
The best fit family for this sibling group is a two parent home. They could do well with a single parent with a good support system in place. They will do well as the only children in a home or joining a home with older children. These children are still connected to other siblings, so keeping that connection is important to them. At this time all three need redirection and one on one attention throughout the day. These children will need a home that can welcome all of them and help them thrive.
For more information about Miricle, Loammie, and Deshon, please contact AASK at (602) 930-4466 or via e-mail at csinquiry@aask-az.org.