Meet Savannah!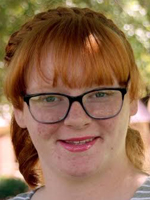 Savannah is a bright and bubbly teen who loves to be social and active! A lover of the outdoors, Savannah says going to the park, playing soccer, and horseback riding are some of her favorite things to do. In addition to riding horses, Savannah likes to take care of them and takes pride in her work.
Savannah loves to try new things and is currently learning how to play the viola and likes trying out new dance moves and styles. She's also very crafty and imaginative and likes to read, build with LEGOS, and play Minecraft.
Savannah hopes to one day own her own ranch full of homes and other farm animals. For now, she would like to find a loving family that will support her dreams. Savannah is open to having older siblings or being an only child.
For more information about Savannah, please contact Info at (602) 930-4900 or via e-mail at info@aask-az.org.