Meet Bradly!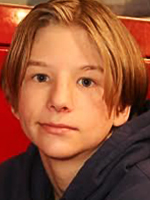 Bradly is a fun, sweet, and energetic teenager ready to take on the world with a family by his side. One of Brad's favorite things to do is play soccer and hopes to make his school's team. He also enjoys playing video games like Zelda and eating Skittles and Starbursts.
Brad does well at school and says his favorite subjects are social studies and science. Bradly is looking to join a family that enjoys spending time together watching movies (Brad has a great sense of humor), playing board games, and going out to eat. He is eager to find a loving mom to call his own and is open to two-parent homes and siblings.
Like all teenagers, Bradly needs a family that has some structure and routine, but he easily adapts to change and is flexible. More than anything, Bradly is looking for a loving family that will make him feel safe and secure!
For more information about Bradly, please contact us at (602) 930-4900 or via e-mail at info@aask-az.org.