Meet JoshT!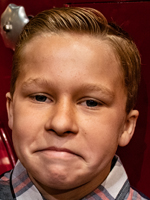 Josh is an inquisitive boy with a passion for animals and the outdoors. He hopes he can one day become a zoologist and work with large animals at the zoo.
Josh's love of animals extends to small creatures and insects too! When he is outside he likes to go on 'explorations where he searches for as many different animals and bugs as possible. Josh enjoys learning and does well in school. His passions extend beyond the classroom and include meteorology, physics, and how motors and machines work.
The ideal family would be a two-parent home with an involved and positive father figure. Although Josh is mature for his age, he would do best with a structured home. Josh hopes to have older siblings who enjoy playing and exploring as much as he does! He hopes to find a family that enjoys fishing, camping, and traveling and is ready for a lifetime of love together.
For more information about JoshT, please contact AASK at (602) 930-4466 or via e-mail at csrinquiry@aask-az.org.