Meet Cyrus!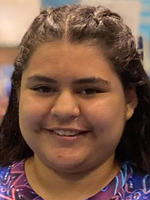 Cyrus loves to learn! Whether at school or in her community, she likes to take it all in and learn something new.
A huge animal lover, Cyrus hopes to become a veterinarian when she grows up and her positive attitude will help her achieve all her dreams. Cyrus would also like to open her own animal shelter and has carried that dream with her for over a decade. Cyrus is a big reader and currently enjoys The Outsiders. She also likes to play card games and enjoys when she can teach people a new game.
Cyrus is looking for a family that likes to spend quality time together and will support her interests and dreams.
For more information about Cyrus, please contact AASK at (602) 930-4900 or via e-mail at info@aask-az.org.