Meet Calysta!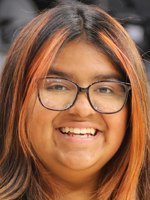 Calysta is an outgoing teen who loves to meet and spend time with people! A born performer, Calysta enjoys singing and dancing with hopes to taking ballroom dance and guitar lessons.
In her spare time, Calysta enjoys doing her hair and makeup and spending time with her two sisters. It's very important to her to find a family that will nurture these relationships and allow Calysta to continue to see her sisters.
Calysta would do well with a two-parent family or with a single mother.
For more information about Calysta, please contact us at (602) 930-4466 or via e-mail at csrinquiry@aask-az.org.