Meet Rayne and Skyler!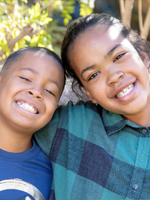 Rayne and Skyler are a sweet brother sister duo looking for a family who appreciates their easy-going, loving personalities.
Rayne loves school and enjoys both math and reading. After school she likes to watch YouTube videos, ride her bike with her brother, and playing outside. She also enjoys collecting stuffed animals and family activities like dinners together and puzzles. /n Skyler also enjoys math class but enjoys the time off even more! Like his sister, Skyler likes to ride bikes and also enjoys playing video games, basketball, and swimming. Skyler also enjoys family dinners together, especially if it includes his favorite orange chicken from Panda Express.
The siblings would do best in a two-parent home with just them or older siblings. They do best with structure and routine and like to stay busy with sports, trips to the park, and games.
For more information about Rayne and Skyler, please contact AASK at (602) 930-4900 or via e-mail at info@aask-az.org.