Meet Jacob and Rylin!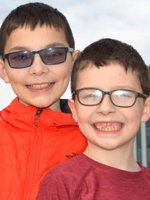 Brothers Jacob and Rylin are energetic boys who love to have fun!
The duo enjoys playing together and enjoys trips to the arcade, board games, and watching TV together. Jacob is exceptional at putting together puzzles and Rylin excels at dot-to-dot activities. When the weather is nice, the pair like to play outside and gravitate toward shooting hoops and tossing a football around. Both also enjoy school and enjoy the technology side of things.
Jacob and Rylin are looking for a family that is structured and can give the boys the individual attention they so deserve. Jacob and Rylin have so much love to give and are eager to get it in return. A family that is experienced with or willing to learn about youth with Autism is preferred.
For more information about Jacob and Rylin, please contact AASK at (602) 930-4900 or via e-mail at info@aask-az.org.