Meet Julian7!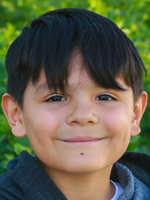 Julian is a fun-loving little boy who likes LEGOS, toy cars, and anything to do with Marvel! His newest fascination is with space, and he loves to play in his new space-themed tent.
Julian is very energetic and likes to stay active throughout the day. He is usually open to most any activity and loves to have fun.
Julian is looking for a two-parent home with good mother and father role models who can provide Julian with undivided attention and tons of unconditional love. He would do best as an only child and is eager to become a helpful member of the household.
For more information about Julian7, please contact us at (602) 930-4466 or via e-mail at csrinquiry@aask-az.org.