Meet Jacob!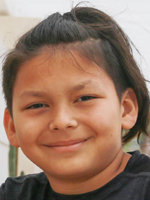 A goofy, fun-loving, and athletic pre-teen Jacob loves to challenge himself and try new things. He currently likes to play soccer and football but can also be found riding his bike throughout the neighborhood and meeting with his friends at the park.
Jacob enjoys school and gets along well with his peers. Jacob puts a lot of pressure on himself to do well and can get frustrated when new concepts don't come easily. Typically, Jacob is a happy-go-lucky guy who likes to make everyone laugh and has a great sense of humor.
Jacob would do well with one or two-parent homes and is eager to have brothers and sisters to play with and spend time with. He looks forward to having movie nights with his whole family and creating memories together. A family that is supportive and structured would be the best fit to help Jacob stay on track and succeed.
For more information about Jacob, please contact us at (602) 930-4900 or via e-mail at info@aask-az.org.