Meet Autumn!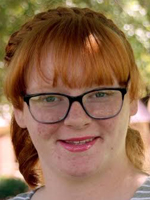 Autumn is a bright, bubbly teen who loves to stay busy and be out and about!
Autumn is very creative and likes to write short stories exploring the depths of her imagination. Autumn is also a voracious reader and likes to do arts and crafts and playing board games. A big horse lover, Autumn hopes to one day own a ranch where she can raise her own horses.
Autumn loves to live in more rural settings and thrives when she has wide open space to explore. Autumn would like to be the only child in her forever family and pets of all sizes are happily welcome.
For more information about Autumn, please contact Info at (602) 930-4900 or via e-mail at info@aask-az.org.